Christine Agnew B.Sc.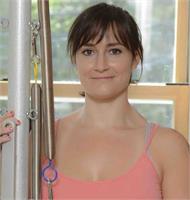 Après avoir complété son Baccalauréat en Science de l'Activité Physique de l'Université Concordia en 2007, Christine est devenue passionné de la méthode Pilates. Depuis, elle est devenue accrédité en tant que Kinésiologue, Naturothérapeute, et Instructeur de Pilates pour bien encadré sa clientèle avec les bons outil de travail et les bonnes méthodes de pratique.
After completing her Bachelors Degree in Exercise Science in 2007 from Concordia University, Christine became passionate about the Pilates method. She has since become accredited as a Kinesiologist, a Naturopathic Doctor, and a Pilates Instructor to better serve her clientele with the right tools and proper practices.
Christine Agnew B.Sc. instructs the following: