Zoey Beaulne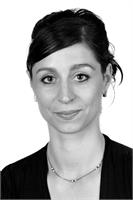 After a career as a Trapeze Artist for 14 years, It felt natural for Zoey to transition into teaching Pilates. Pilates was part of Zoey's training regime for the time she spent performing, to maintain fitness and stay injury free. 9 of Zoey's Circus years were spent on a world tour with Cirque Du Soleil's 'Varekai' as a Triple Trapeze Artist. Zoey then went on to some smaller projects before performing in the London Olympics Opening Ceremony 2012. Zoey enjoys finding the grace in movement, proper alignment and doing what is good for the body and mind. Zoey is from England and moved to Quebec with her husband and 2 young children in the Summer of 2014.
Zoey completed her Pilates Stott Mat Certification in March 2013, a Special Injuries and Populations course with Stott Pilates in October 2014 and has just completed her Stott Reformer certification. She also has a Yoga Alliance certification, Fitness instructor certification and an Anatomy and Physiology Level 3 Certificate with YMCA.
Zoey Beaulne is currently not instructing any classes.